Meet the Team at
Windermere Chiropractor & Physiotherapy Clinic
Get to Know Us
Chiropractor Dr. Richard Poon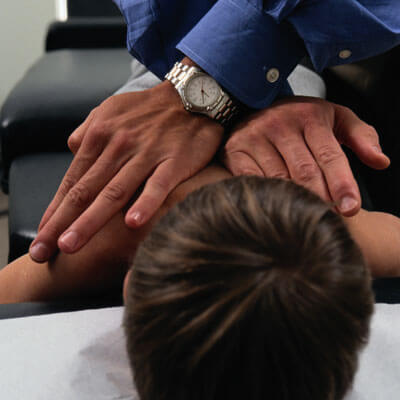 A friend who saw a chiropractor encouraged Dr. Poon to have his first adjustment. Though he wasn't experiencing pain, Dr. Poon was amazed by how good he felt afterward. The holistic approach that chiropractic care offered resonated with him. Dr. Poon liked that it was a drug-free form of health care.
Interested in learning more, he found out about the philosophy of chiropractic. Dr. Poon then decided to pursue a career in the profession. He earned a Bachelor of Science from the University of Waterloo.
Obtaining a Chiropractic Education
After his graduation, Dr. Poon enrolled in Canadian Memorial Chiropractic College in Toronto. There, his education was similar to that of a medical doctor. The difference? His chiropractic education emphasized preventative medicine. So he can best serve his patients, Dr. Poon takes regular continuing education courses. The training he has undertaken includes studies in the following:
Activator Methods®
Active Release Techniques®
Drop Table
Graston Technique
Traditional manual adjustments
Unlike most chiropractors, Dr. Poon also provides TENS therapy and ultrasound therapy if needed.
Enjoying an Active Lifestyle
Dr. Poon was born and raised in Calgary. He enjoys exercising at the gym and going for runs. In his spare time, you can find him reading, spending time with his family, or traveling in Canada and the U.S.

Chiropractor Dr. Mark Johnston
I have had a personal interest in sports and fitness since a young age and have made being active and healthy a priority in my life.
My athletic endeavors and own personal experience seeking treatment from a chiropractor have helped me understand and appreciate the important role that chiropractic care plays in both injury prevention and treatment.
For this reason, I decided to attend D'Youville college to become a chiropractor after graduating from the University of Alberta with a Bachelor of Science degree in 2013.
In the years since deciding to attend college I have dedicated myself to learn as much as I can about the treatment of pain and I employ a mixture of treatment styles including spinal manipulation, manual release technique, instrument assisted soft-tissue mobilization (IASTM), and Activator®.
Outside of the office, I enjoy woodworking, hiking, camping, and spending time with my wife and son.
Dr. Mauchang (Annie) Wu, R.Ac, Registered Acupuncturist
About Dr. Annie Wu R.Ac, B.ScAnnie is board certified with the College and Association of Acupuncturist of Alberta(CAAA), and massage therapist (NHPC), and is a Chinese Herbalist. Before moving to Canada in 2004, Annie completed her first Bachelor's Degree at the University of Taiwan. Annie has practiced Traditional Chinese Medicine for ten years. She completed both Acupuncture & Massage Therapy Programs at Grant MacEwan University. Annie specializes in pain management, internal medicine, and woman's health including fertility. Annie truly cares about her client's needs and helps them to achieve their wellness goals.
Tina (Meilu) Li, R.Ac,
Registered Acupuncturist
Tina (Meilu) is a Registered Acupuncturist and Massage Therapist. She has a strong passion in helping others and strongly believes that regular health care and holistic health care will together, and can have a powerful effect on people's healing process. After becoming a registered acupuncturist, she went back to China and completed an internship in Liaoyang TCM Hospital. Tina has a passion towards pain management such as shoulder pain, back pain knee pain etc.. and stress related problems such as insomnia, anxiety, depression, PMS, menopause symptoms and weight control. Tina is a great listener and she will explain in a way that you will understand what will the process be like, so you will feel that someone truly hear you and understand your pain
Oluwayemisi (Tosin) Osiberu PT Bsc MA, Physical Therapist
Tosin has a Masters degree in Pathokinesiology from New York University USA. Besides Canada, she is currently a licensed PT in New York and Texas states, USA. In Canada, she works at Windermere Chiropractor and Physiotherapy clinic and a Post Acute unit that majorly deals with In-Patients following a fall resulting in fractures and soft tissue injuries in various areas of the body. In addition, Tosin has over 15years of clinical experience in Orthopedic, sports, and Neurology from various hospitals and private clinics. She has completed various Orthopedic and Neurological courses as continuing education. Her special interests lies in pain management, Kinesiology and the spine.
Marius Manalo, B.Sc,
Physical Therapist
Marius attained a Bachelor of Science in Physical Therapy in 2000. He has combined experience of over 15 years as a Physical Therapist. Marius has dealt with clients of varying conditions such as critical illness, musculoskeletal, post-surgical, pediatric, cardiac and neurologic conditions at inpatient and outpatient facilities. Marius has a special interest in pain management, musculoskeletal conditions, and post-surgical conditions. He enjoys the use of therapeutic exercises, education, manual therapy and electro-thermal modalities in meeting the individual needs of his clients. Supportive interventions such as taping and orthosis can be done if it is indicated. Marius is working to pursue certification in Acupuncture and Dry needling to add into his practice. When not at work, Marius likes to spend time with his wife and two children having fun with activities that the family enjoys. As a physiotherapist, Marius knows the importance of staying fit. He likes to play basketball, ride his bike or run on his free time.
Schedule a Same-Day Visit
If you'd like to learn more about chiropractic or our other services, contact Windermere Chiropractor & Physiotherapy Clinic today! We have same-day and Saturday appointments available.
Discover how chiropractic care may help you and your family experience pain relief and better health. Contact us today to schedule a convenient appointment!
BOOK ONLINE »

Meet the Team at Windermere Chiropractor & Physiotherapy Clinic | (780) 628-2881